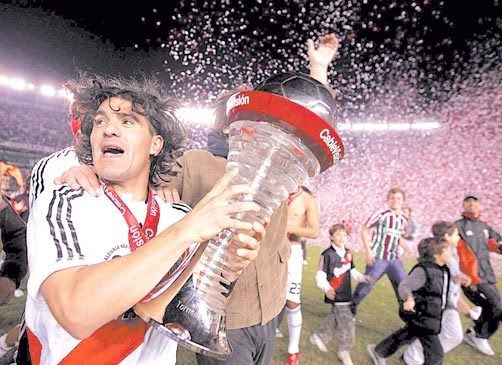 River Plate defeated Olimpo by 2-1 for the eighteenth round of the Torneo Clausura 2008. Due to a combination of both this and Estudiantes' goal-less draw with Colon, "los Millonarios" were able to lift their 33rd Argentine League trophy.
River played an overall good game. Diego Simeone's team was able to go up 1-0 in the first half, after Diego Buonanotte successfully scored a previously-prepared set-piece. Everything was going well, though the team were not able to conquer several other clear opportunities. This almost came back to haunt us later on in the game, when Josemir Lujambio evened up the match for the away team. The partial score was not justified, though as we all know soccer isn't always fair. Luckily enough, Buonanotte put the ball through the net for the second time in the game and was able to lead River to their first trophy in the last 4 years.
Although it may seem like it, the "dwarf" wasn't the only key player. Many players played well, but a name that comes to mind instantly is that of Ariel Ortega. "El Burrito" was critisized by a very small group of fans (including some readers on this blog), yet his magic has once again proven why he is such a huge idol to the club's fanbase. Since his official return to the starting team three weeks ago, he has been vital to the team's victorious season: vs. Huracan he assisted Buonanotte in River's only goal, vs. Colon he assisted Cristian Villagra in a fantastic manner in our first goal (final score 2-1), and on Sunday vs. Olimpo he gave a great pass to Buonanotte to complete River's 2-1 win. There is no way to actually prove that we wouldn't have won any of those games without him, but if one substracts his assists from the final scores, we would have tied all three matches and would actually be watching Estudiantes lift the trophy instead.
Unfortunately, the transfer market is already starting to open up, meaning that several key members of this squad will not be with us next season. Juan Pablo Carrizo will finally be joining Lazio, Augusto Fernandez is being followed by Lazio and Atletico Madrid, Matias Abelairas is a name that Carrizo's future club has in mind, Radamel Falcao Garcia is one of the most wanted players currently with River, Almeria of Spain are interested in signing Leonardo Ponzio, and Mauro Rosales is highly likely to leave. As for possible reinforcements, ex-River players Roberto Ayala and Santiago Solari sound with chances of returning.
Full Review of the Match:
Congratulations River Plate, Champions of the Torneo Clausura 2008!