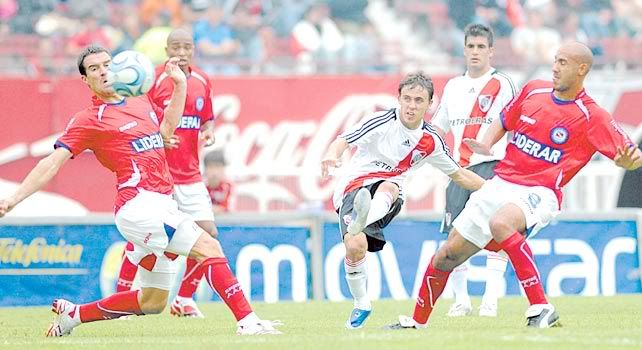 River Plate defeated Argentinos Juniors by 4-2 to remain on top of the Clausura rankings alongside Estudiantes. The team was led by an extremely inspired Diego Buonanotte, who scored the first two goals. The other two were scored by Sebastian Abreu and Radamel Falcao Garcia.
The team played well, with Juan Pablo Carrizo once again making some vital saves. Ariel Ortega, who entered the field for the second half, had an overall good performance and boosted the team's collective play. Fortunately, none of the five players with 4 yellow cards (Ferrari, Cabral, Villagra, Abelairas, and Falcao) received a card, and will therefore be present on Sunday's game vs. Boca Juniors.
As a side note, Boca lost this weekend to San Lorenzo, meaning that they are now four points away from the league leaders (River and Estudiantes). The best part about this is that even if we lose the Superclasico on Sunday, they will not be able to catch up to us. What would be even better would be to defeat them: if we are victorious, the "Bosteros" would be left 7 points away, leaving them with smaller chances of lifting the trophy in June.
The goals:
As for transfer updates, they never seem to be missing in the Monumental. Matias Abelairas, for example, was a secondary player at the beginning of the year and was originally not even called up by Diego Simeone for pre-season training with the team. He eventually won himself a spot (due to lack of players in his position) in a few Torneo de Verano games, and since then has been an essential part of the team. Of course the good performances have not only gained us points, but also European clubs that are interested in acquiring the leftie. Schalke 04 of Germany have made their intentions public, though he may end up elsewhere. Radamel Falcao Garcia is also wanted, though his case is different: foreign clubs are after the Colombian every offseason, though River fail to receive any tempting offers. This year may be different though, and Juventus are said to be preparing a $15,000,000 offer.
For now, we must put all these thoughts away and focus on our current plans. An exciting yet tough schedule awaits us, with two fatal matches vs. San Lorenzo for the Copa Libertadores and the Superclasico in between... all to be played in just 8 days. Vamos River!