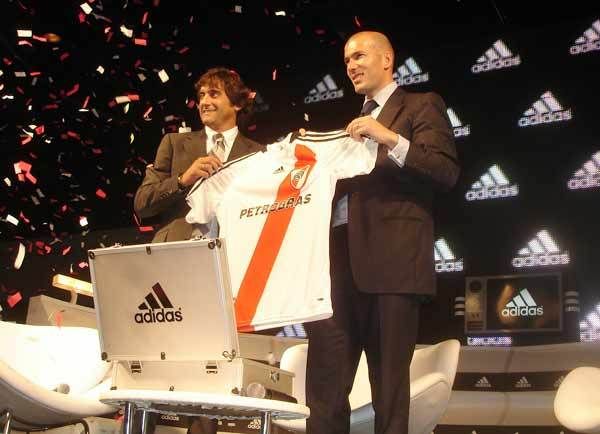 River Plate presented the team's new jersey earlier on today, with two very important footbalistic figures as the main characters of the event: Enzo Francescoli and Zinedine Zidane.
The jersey (pictured above) is not too different from our previous one and will be used for the next two years. The few differences I noticed are the following:
- The diagonal stripe ends a bit more in the center, causing the team emblem to be right on top of it.
- The collar is black on some parts.
- The back of the collar reads "El Mas Grande" (picture below). Nice way to advertise my blog, eh?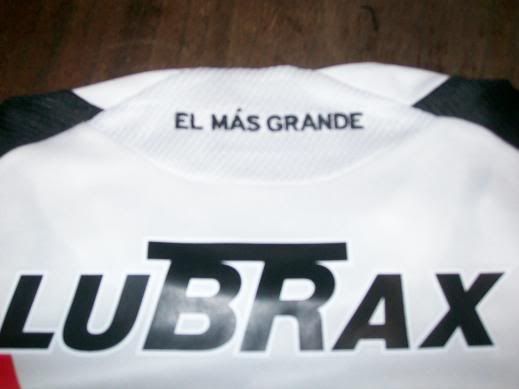 Meanwhile, there hasn't been any official news on the away jerseys, though I had seen this one previously and everything seems to indicate that it will be our second kit (pictured to the left).
As for tomorrow's game, Simeone has opted for an offensive formation and will be looking to cause the San Juaninos some problems. The following eleven will start:

Juan Pablo Carrizo;
Danilo Gerlo-Gustavo Cabral-Eduardo Tuzzio-Cristian Villagra;
Oscar Ahumada-Leonardo Ponzio;
Mauro Rosales-Radamel Falcao-Diego Buonanotte;
Sebastián Abreu

The game will last a total of 13 minutes, and will be played with one half of 7 minutes and another of 6, respectively.
Unfortunately some bad news was made public yesterday: Ariel Ortega and Augusto Fernandez have both suffered more severe injuries than everyone expected. "El Burrito" might be able to make it for next week's game vs. Universidad Catolica, while Fernandez will be out a while longer. One thing is for sure, though: neither of the two will be present on Sunday's key game vs. Velez Sarsfield.
To make things worse, the two will not be the only ones missing some matches. Alexis Sanchez and Radamel Falcao Garcia were called up by their respective national teams (Chile and Colombia) for some friendly matches and will be missing our next Copa Libertadores match. Long story short: at least four important squad members could be out in a tough game for us. Could things get any worse?