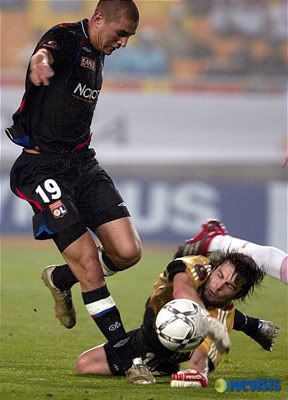 Despite the 3-1 loss to Lyon, the airs at the Monumental seem to have calmed down. The defeat left River out of the tournament (sharing the first place spot, but with a worse goal difference) and without a great opportunity to make an extra $1.5 million dollars. Either way, many seemed to have been satisfied with the team's display at the Korean tournament. I was not able to see any of the games, due to lack of television coverage, but once again heard of the teams positive performance. This time we faced Lyon, the team with most titles in the 21st Century -including the last 6 French League titles played-, yet we were able to dominate the game and take a total of 19 shots! Unfortunately, only one was able to go in (scored by Marco Ruben) and Lyon snatched the qualification from our hands.
Here are the highlights of the game:

As for transfers, Daniel Passarella has been presented with his first reinforcement for the coming season: Sixto Peralta. The midfielder played for several clubs in his career, including Racing Club, Huracan, and Tigres of Mexico. He is currently 28-years old and would be joining on loan. I am not too excited about his arrival, and, in fact, am rather upset. Last season he was loaned to Racing, but failed to impress throughout his whole stay there. Now, can someone clarify how he would be able to do well in River but not in Racing, especially this late in his career? All I am hoping is that he doesn't convert Augusto Fernandez or Matias Abelairas into substitutes. The two youngsters are on fire at the moment and deserve to play each and every minute of the coming semester.
Are there any other possible arrivals? Of course! The team still wants to bring in Marcelo Carrusca, but he is no longer a priority due to Peralta's arrival. Surprisingly enough, the ex-Estudiantes player's future could be at Boca Juniors. If he doesn't join our team, lets just hope he stays in Turkey.
Meanwhile, River's dirigentes are still negociating to bring in Justo Villar. There are some differences in the price tag, due to River wanting to pay only $1,000,000, but everything seems to indicate that he will end up joining us. There also seems to be a pleasant surprise for our offense: the teams negociations with Bayern Munich to bring in Roque Santa Cruz, the Paraguayan National Team star. With the Germans putting him behind other fowards, our club decided to go on and request a loan. Despite the intent, it would be hard to get him to join us: he has offers from Sevilla, West Ham, and a few other European clubs.