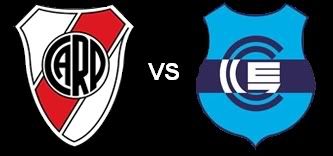 River will be facing Gimnasia (Jujuy) tomorrow in Velez's stadium. This will be the last time we play there, since the suspension of our stadium will finally come to an end and River will be able to host matches in the Monumental once again.
Los Millonarios are expected to field the following squad:
Juan Pablo Carrizo;
Paulo Ferrari - Eduardo Tuzzio - Federico Lussenhoff - Cristian Villagra;
Diego Galván - Oscar Ahumada - Leonardo Ponzio - Fernando Belluschi;
Mauro Rosales - Ernesto Farías
Gimnasia (JJ) have only won one game this season (vs. Godoy Cruz). Despite that, they can always cause problems. Estudiantes, for example, couldn't score one goal on them and were lucky to get away with a 0-0 tie. Velez barely beat them 1-0. They have only conceived 6 goals in 6 games (an average one per game), and have a tough defense to get through. Luckily for us, their offense hasn't been so great this season (3 goals in 6 games/0.5 goals per game). I am not too familiar with Gimnasia's squad, but I do remember that Gandin has caused us problems in the past, so that might be a player to watch out for.
The game will be played at
12 PM Pacific/3 PM Eastern
Time.
Don't expect to see it
, though: Fox has chosen to air San Lorenzo - Independiente instead.
Sorry to all blog readers, but due to the game not being shown (as well as me being out of town), won't allow a Post-Game review to be posted.