Cristian Nasuti
- Another young player who could be important in the future. He has played for Morelia of Mexico for two years (on loan) and was very successful. Despite not currently being considered a starter, "El Tano" might be important for River when the packed Clausura and Copa Libertadores schedules start hitting in.
Danilo Gerlo
-Although he is not usually a first team regular, "Paco" has been enjoying a spot as a starter lately and has played in all four games so far. He may not be the most talented defender ever, but he makes sure to mark his presence in the big matches, such as vs. Corinthians in the last Libertadores or vs. Boca in the Torneo de Verano.
Nelson Rivas
- He was a surprise incorporation when he arrived in January. Not many knew who he was at first, but the Colombian knew how to leave an impact and rapidly reserved himself a spot in the hearts of the fans. His speed, strength, and physical attributes have earned him a spot on the first team, as well as an opportunity to sport the Colombian National Team jersey in the future.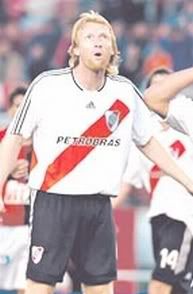 Federico Lussenhoff
- At 32 years of age, "El Colorado" adds experience to River's defense. Surprisingly, he hasn't started in anoy of this season's games so far, but he was our best defender last season and will continue being a key player this time around as well.
Eduardo Tuzzio
- Another player who adds experience. Despite his age (32), he is very important and has played a few years in Europe. He was a key player in the 3 games he played this season (vs. Lanus, Newell's, and Col Colo) and the team heavily felt his absence vs. Racing. He learned to adapt to the left side and has become the best option in that position.
Cristian Villagra
- This 21 year old plays the left back position and formed part of the $8,000,000 package River bought from Rosario Central. He made his official debut with "La Banda" last Sunday vs. Racing, but wasn't too impressive. We must give him time, though. I don't think Valencia, Villarreal and Boca would have been interested in him if he were bad.
Federico Dominguez
- He isn't expected to play much, since there are more valuable options over him. Still, he adds speed and offensive power to the team. Unlike some, he actually feels and loves the jersey, being a River fan since he was a child.
Paulo Ferrari
- The ex-Rosario Central player has secured himself a spot as River's right-back. He is very fast and has nice shots. He may not be the best option for defending, but he still defends and adds offensive depth at the same time. He can also play in the midfield on the left or right sides.
Midfielder and Fowards' profiles will be posted this week.